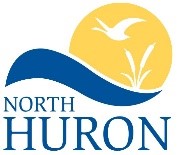 Date: June 9, 2021
For Immediate Release
The Leland and Thora Vance Fund
It is with great gratitude that the Township of North Huron is proud to share in the announcement of the Leland and Thora Vance Fund.
Leland and Thora Vance were long-time residents of Wingham. Up until their retirement, they owned Vance's Pharmacy for over 40 years and their dedication to those in need lives on through countless stories of Leland and Thora making themselves available after business hours on nights and weekends to help those in need of medication, advice, and support.
Leland and Thora genuinely cared about the people in our community. They both cared so much that they wanted to continue to ensure that the community's residents were supported even after their lifetime. To do so, Leland and Thora created an endowment fund with Kitchener Waterloo Community Foundation (KWCF) to give back to the community that they loved so much.
The fund in the amount of approximately seven million dollars is invested and each year the income on the fund will be distributed to support residents of Wingham and provide annual assistance to organizations and community groups in the areas of education, healthcare, recreation and Christian churches.
Leland and Thora Vance chose to have a committee that included local leaders and KWCF representatives to make the distribution decisions. The current committee includes:
(1) the Chair of the Wingham BIA – Dave Tiffin
(2) the Reeve – Bernie Bailey
(3) the President of the Lion's Club – Richard Hall (an organization that they both passionately supported during their lifetime)
(4) the President & CEO of Kitchener Waterloo Community Foundation – Elizabeth Heald
While the committee has just been formed and is in the process of working out the details, at this time, the Township of North Huron would like to thank Leland and Thora Vance for their continuing positive impact on the community. Their legacy will live on forever in a community made stronger by their generosity.
Media Spokesperson: Bernie Bailey, Reeve bbailey@northhuron.ca