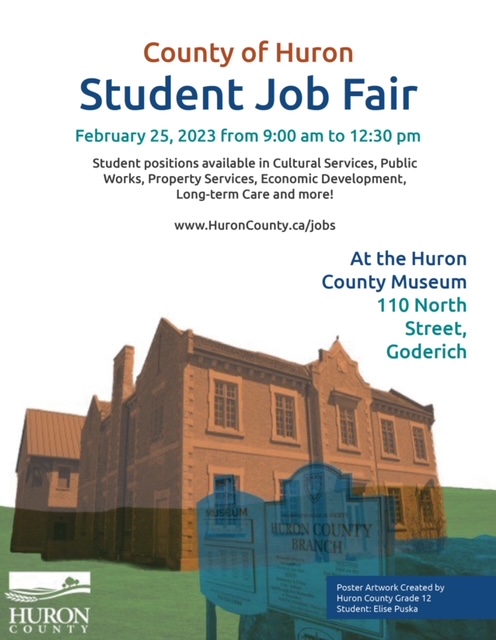 Posted on Wednesday, February 15, 2023 02:30 PM
County of Huron invites youth to attend a job fair on February 25, 2023. Huron County, Ontario – The County of Huron invites students and youth to an in–person job fair for a variety of paid positions available at the County of Huron this summer season. County of Huron's Student Job Fair: February 25, 2023 9:00 am to 12:30 pm Huron County Museum 110 North Street, Goderich "The County of Huron is enthusiastically welcoming students and youth to apply to a variety of different summer jobs we have...
Posted on Thursday, December 01, 2022 03:44 PM
FOR IMMEDIATE RELEASE: November 30, 2022
Glen McNeil re-elected as Huron County Warden for 2023-2024 term
Huron County, Ontario – Huron County Council re-elected Glen McNeil, Mayor of the Township of Ashfield-Colborne-Wawanosh, as Huron's Warden at the November 30, 2022 Inaugural Session. This next term of Warden is for the 2023-2024 period, which represents the first two years of Council's four-year term.
"I am honoured for this opportunity to continue serving Huron County...
Posted on Monday, November 28, 2022 09:27 AM
FOR IMMEDIATE RELEASE: November 21, 2022
More Electric Vehicle Charging Stations to be installed in Huron County
Huron County, Ontario – Bruce Power and ChargerCrew Canada have contributed to the installation of 22 new level 2 Electric Vehicle (EV) chargers in the County of Huron, the Town of Goderich, and the Municipality of Huron East.
This important project helps to ensure the region is ready for a low-carbon future by making charging stations more accessible to local...
Posted on Thursday, June 23, 2022 10:57 AM
The Municipalities of Huron County are seeking three (3) members and one (1) alternate member of the public to be appointed to: THE HURON COUNTY MUNICIPALITIES COMPLIANCE AUDIT COMMITTEE,